This first song is clearly
The Stealer
by
Free.
This is taken from their 1970 Isle of Wight show - which has had many releases over the years - but the one I own was released in 2006. It's cover is also the basis for the show's one. Next week's is even weirder but you'll have to wait for that. Free were a very young band when they started (Andy Fraser on bass was sixteen) and quite quite basic really. I maintain that they are quite overlooked (with the exception of that
one
song) and their self-titled album "Free" is one the most beautiful blues rock records released in the sixties. I recommend you investigate further!
Followed by
Cat Food
by
King Crimson
. This is from 1970's "In the Wake of Poseidon" which a lot of people put down as a base copy of "In the Court of the Crimson King" but there's arguably a lot more depth here than in their not-inconsiderably-ridiculous debut. King Crimson are head-and-shoulders above a lot of their prog contemporaries for one very clear reason: They progressed. Every album of theirs tells a different story - and every year found them in a different mood. I wish they'd resurface. I fucking love the Fripp.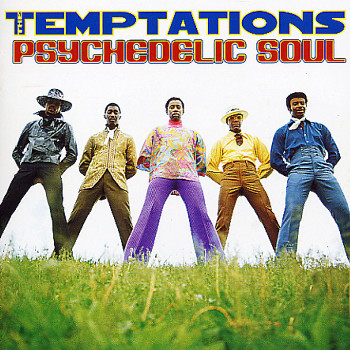 After a little John Cleese outrage from
Monty Python
Live at Drury Lane
(1974) we've got CLASSIC psychedelic soul from
The Tempations
. Irritatingly as I'm a bit of an album monster the only version of
Plastic Man
I've got is on the 2003 compilation "Psychedelic Soul" - but it's originally from "Masterpiece" which is from 1973. A year of unparalleled recordings. I've always got time for soul and funk - and the Temptations of this period straddle it (LITERALLY LOOK AT THAT COVER) beautifully.
This is
Hand of Doom
by
Black Sabbath.
I've always thought the drum track in this song was incredible, along with most of the stuff that he comes out with on the first few Sabbath albums (which are all equally breathtaking). It's all good basically, you literally can't take a step wrong in this era - also, the strange pink creature on the cover is supposed to be a War Pig. Go figure.
Anyone's Daughter
is from
Deep Purple
's 1971 album "Fireball" and is an interesting sonic departure from them - the album in question sits between two classics "In Rock" and "Machine Head". It gets cold there, in that valley between two enormous albums. People don't look down that valley often. There's The Mule there. I don't think this metaphor can go on long - save to say it wouldn't much of a seventies show without those hairy hard rock titans - !
Next up is
Freddie King's Big Legged Woman
a wonderfully lilting and classically mysognistic bit of bluesery that is fairly typical of Mr King's 70s output. It's fast, it's funky and it's bloody good. There are many Kings in the world of the blues, and Freddie certainly had the most funk. Also - apparently he had a bloody great gun in his dressing room that he would brandish menacingly at anyone entering.
The extraordinarily-named
Prince Kajuku
is from
UFO
's second album from '71. They didn't hit their stride until they found the slick fingers of Michael Schenker but here, quite hilariously, they were trying their hand at "space" rock. Hence the hilariously direct subtitle on the album here - which is actually entitled "Flying". Despite it's pretensions (there is a twenty-six minute song which culminates in a backwards-reading of Gunga Din) it's actually quite a good record. But me, I'm a sucker for ONE HOUR SPACE ROCK. Now I'm going for EIGHT MINUTE SANDWICH.
This goes quite suddenly into
Sister Mary
by the eternally underrated
Stray.
One of a few BILLION early seventies hard rock bands who never went anywhere but had some very good albums. Like Free, they were quite young on starting - this is their second from 1971 and is chock full of bloody good tracks. I think I found them via Iron Maiden who covered one of their songs on a B-side a long long time agoooo....
Then it came to pass that Robin Trower showed up. This particular rendition of the well-travelled blues standard Further on Up the Road was performed by the gurning Trowerman on the King Biscuit Flower Hour in 1977 - the chap is just... phenomenal. I love him entirely and saw him in Sheffield once in the past. The distant past.
A bit of non-standard Lynyrd Skynyrd balladry here from their 1973 debut album "Pronounced Leh-Nerd Skin-Nerd" - like Free it's good to investigate the bands behind the endless greatest hits albums and *spits* Kid Rock rip-offs. Despite this and free bird, Pronounced has some very kicking tunes on it. And blimey if it ain't as darn tootin' Southern as I am. But in the US. They don't like their cider as much as us Somersetians though, that's for gosh sure yar danketty
Bit of an odd transition - and it won't get less odd. Straight on to Joy Division's She's Lost Control from the second side of 1979's "Unknown Pleasures". It's dark and angular at the end of the seventies and Joy Division with their repetitive rhythms and tragic shadows summarize it wonderfully. A new addition to my ears this, and a little out-of-step with everything else but hopefully like Mingus last week it'll prick your mind up and displace you.
And without much warning there was suddenly Rush. This is from the last disc of 1997's "Different Stages" which comes from a Hammersmith Apollo show from '78 - the song is A Farewell to Kings from the album of the same name and it's a rollicking rendition. Like Deep Purple you can't have a seventies show without them, or an eighties show, a nineties show, a current show or a show about music or life or ANYTHING. I FUCKING LOVE RUSH SHUT UP.
There's something quite addictive about this song. The Pretty Things have some mighty catchy songs - here they are riding a bit of 1974 glam rock tidal wave (or torpedo) and sound closer to Mott the Hoople or one of those lads than in their majestic psychedelic 60s heyday (S.F. Sorrow is one of the greatest concept records of all time) - they handle the change (or torpedo) well though and it's a transition (or torpedo) that pays off (or .... torpedos off? Is torpedo a verb? IF IT ISN'T IT SHOULD BE)
See you in the eighties and thank you so much for listening :D
O x